May 30, 2017
---
Support the Campaign for Labor to Call a March on Washington to Defend Healthcare
Trump and the Republicans' moves to overturn "Obamacare" and massively cut funding to Medicaid is an immediate threat to the lives of millions. Democratic Party members of Congress, however, responded to the Republicans' first vote in favor of the legislation by celebrating. Convinced that the pain of these attacks will drive voters to reward their party with support in the future, the Democrats taunted the Republicans by waving and singing "nah, nah, nah, hey, hey, hey, goodbye."
Working-class and poor people, of course, have nothing to celebrate from this catastrophic impending attack and cannot afford it to go unchallenged by mass struggle. Widespread outrage at the Republicans' attacks on healthcare has found expression in protests at "town hall" meetings across the country but they clearly will not be enough to stop the attack. The Republicans' first attempt to pass their healthcare overhaul only failed because right-wing members of Congress demanded even more extreme attacks.
That's why supporters of the League for the Revolutionary Party in New York's Transport Workers Union Local 100 have joined with other transit workers to launch a campaign for this country's unions to call a March on Washington to protest the Republicans' assault on healthcare. Such a march could attract massive participation, build momentum for even more powerful mass action, win the unions much needed support as they face impending attacks themselves especially in the form of "right-to-work" laws that will devastate the labor movement, and be a massive step toward a struggle that can defend working-class and oppressed people from all of the attacks on their lives and rights.
The campaign has met with immediate success, with motions for the unions to call a March on Washington receiving unanimous support in morning- and evening-shift meetings of Local 100s Train Operators and Track Worker Divisions. And transit workers have sought to take the campaign forward with an Open Letter to their union's president, John Samuelsen, calling on him to waste no time in taking the call to the rest of the union movement and beyond. The Open Letter is re-published below.
Members of other unions, as well as organizations representing Blacks and Latinos, immigrants and the left, are already expressing interest in joining the campaign. We encourage everyone who supports this idea to join the effort. Members of organizations should, where possible, raise motions and issue open calls. Please get in touch with us at campaign4amarchonwashington@gmail.com.
---
An Open Letter to John Samuelsen, TWU International and Local 100 President
Why Unions Must Take the Lead and Call a March on Washington to Defend Healthcare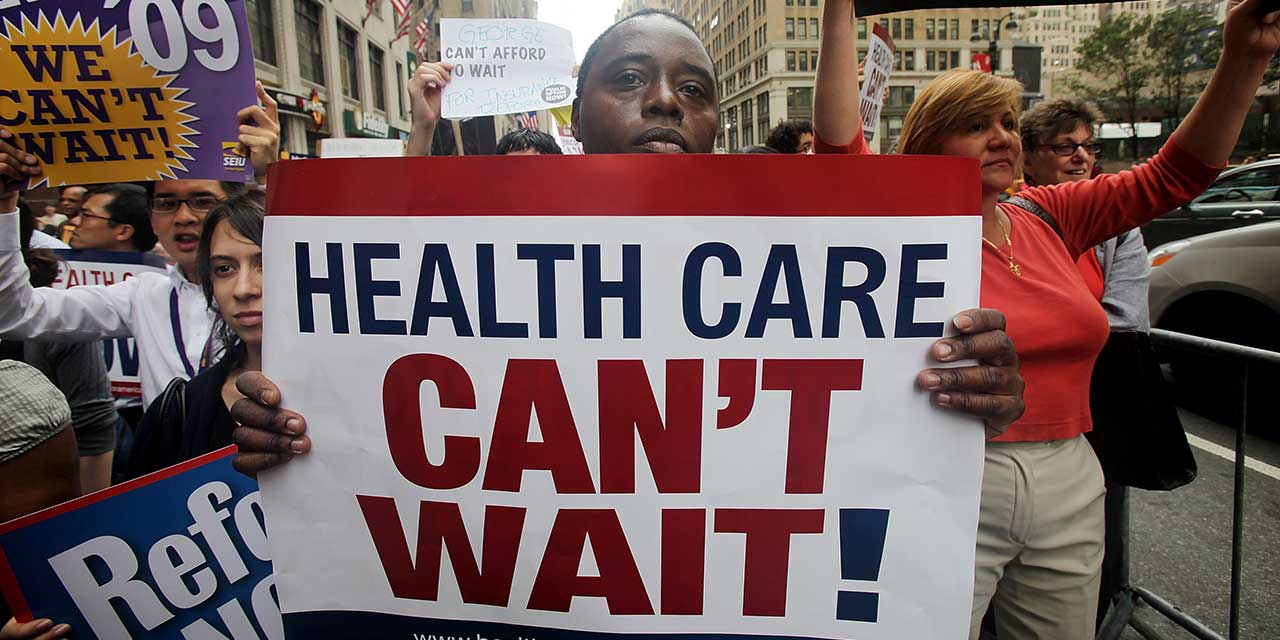 The following letter from TWU Local 100 members was sent to TWU International and Local 100 President John Samuelsen on May 30, 2017. For more information, and to add your name to the list of signatories, write to: campaign4amarchonwashington@gmail.com.
To:
John Samuelsen
Transport Workers Union
International and Local 100 President
May 30, 2017
President Samuelsen:
We are writing to urge you to use your position as TWU Local 100 president and as the TWU's recently elected International president, to support the call for this country's unions to take the lead in mobilizing a March on Washington to defend healthcare.
President Trump and the Republicans in Congress are using divide-and-conquer tactics, launching one attack after another on the rights and living standards of working-class and poor people.
First they targeted Muslims, immigrants, and Blacks and Latinos with their "Muslim travel ban," mass deportations, and end to federal oversight of local police departments found responsible for egregious and systematic racism.
Now they are targeting healthcare, pushing for reforms that will have devastating consequences for tens of millions.
And tomorrow they promise to deal a catastrophic blow to the labor movement, including TWU Local 100, by making anti-union "right-to-work" statutes the law of the land. These statutes, of course, are more accurately referred to as "right-to-scab" laws because they deny unions the right to win the requirement that all workers in an enterprise be represented by a union and have union fees collected from them.
Trump has repeatedly declared his commitment to this union-busting attack and Vice President Pence has brought prominent Republicans to the White House to discuss how to win this battle. Trump has already secured an anti-union majority on the Supreme Court and now right-wing billionaires like the oil industry's Koch brothers and Walmart-owning Walton family are competing to bring right-to-work cases targeting public sector unions before it. Meanwhile Republicans in Congress have already introduced House Resolution 785 that would apply "right-to-work" nationwide in the private sector.[1] The consequences of these "right-to-work" attacks could be so devastating that prominent figures in the labor movement are referring to it as a potentially "extinction-level-event" for unions in this country.[2]
All these attacks are deeply connected.
Trump and the Republicans' plan to overturn "Obamacare," combined with their proposed budget, will:
leave an estimated 23 million people without health insurance over the next ten years;[3]
cut $1.4 trillion in funding from Medicaid;[4]
remove many of the forms of care, such as maternity care, that insurers are currently required to include in their plans as "essential coverage;"
allow states to opt out of covering pre-existing conditions and charge more to people they claim have adverse health histories
defund Planned Parenthood, which is many women's only health care provider;
allow insurers to increase the prices of their plans; and
it will do all this so that the rich can be gifted massive tax cuts.[5]
Waiting until the next elections with the hope of voting for candidates who promise to undo this damage means accepting the suffering and death of untold numbers of working-class and poor people. Mobilizing now to defeat these outrageous attacks is a matter of life and death.
At "town hall" meetings across the country, thousands have vented their outrage at Trump and the Republicans' plans. No matter how inspiring they have been, however, it's clear that such scattered protests will not be enough to stop this attack. The White House's first attempt to pass its healthcare legislation only failed because some Republicans insisted on even more draconian attacks! So the time is now, while the Senate is considering their latest legislation, to take the protests to another level. And our unions are the only mass organizations to which working-class people can turn to make that happen.
If this country's unions announced a March on Washington to defend healthcare and then seriously organized for it, hundreds of thousands, if not millions, could be expected to rally in support. That could that deal a massive blow to Trump and the Republicans' plans. It could create momentum to win the long-standing demand of the TWU and most other unions – quality government-provided healthcare for all, as well as embolden the struggle against Trump's racist attacks. And it could win widespread public support for our unions – support that we will need if we are to have any hope of defeating the coming "right-to-work" attacks.
In TWU Local 100, morning- and evening-shift meetings of the Track Workers' Division have already voted unanimously in favor of motions for you and Local 100's Executive Board to urge all this country's unions and union federations to call such a March on Washington, so the Division's officers can be expected to bring it before the Executive Board for a vote at its next meeting. Meetings of the Train Operators' Department similarly declared unanimous support for taking the idea up, with more Department meetings to come. But why wait?
President Samuelsen, you have just become president of the TWU International and so you are perfectly placed to take this initiative forward by publicly calling on all unions, union federations and councils – as well as organizations dedicated to the rights of women, Blacks and Latinos, immigrants and other oppressed people – to join and build a March on Washington to defend healthcare.
We hope you will do the right thing by advancing this call and look forward to receiving your response.
Jonathan Beatrice, NYCT​ ​Conductor,​ ​Shop​ ​Steward​ ​TWU​ ​Local​ ​100,​ ​Democratic​ ​Socialist​s ​of​ ​America*
John Ferretti, NYCT Conductor, Shop Steward TWU Local 100, Revolutionary Transit Worker newsletter
Jason Hicks, NYCT Track Worker, TWU Local 100 member, Democratic Socialists of America*
Eric Josephson, Retired NYCT Track Worker, TWU Local 100 member, League for the Revolutionary Party
Eric Loegel, NYCT Train Operator, Shop Steward TWU Local 100
Seth Rosenberg, NYCT Train Operator, TWU Local 100 member, Revolutionary Transit Worker newsletter
* Organization listed for identification purposes only
---
Notes
---